Coming Soon…
We are in the process of doing a complete overhaul and redesign of the website. Check back soon!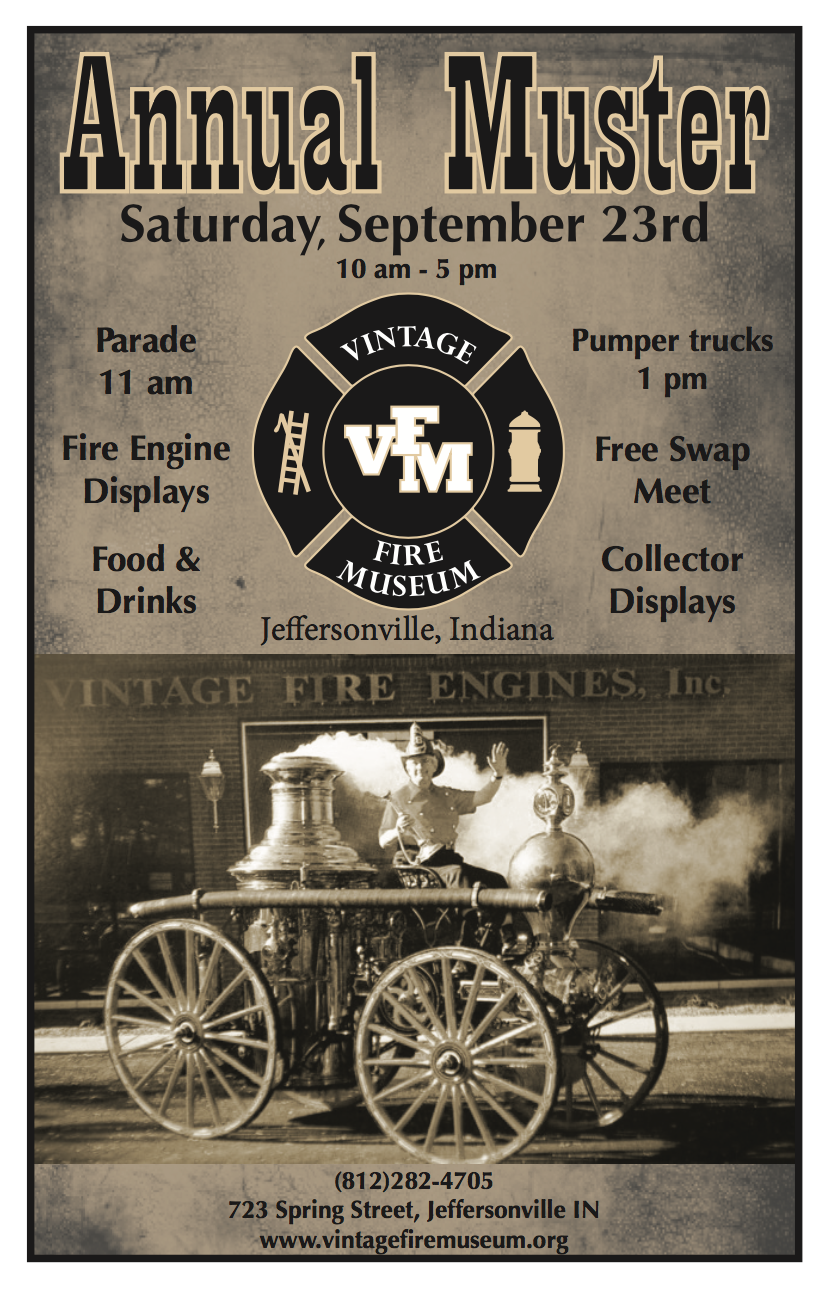 Muster and Parade, September 23rd
The public is invited to the annual "Muster" at the Vintage Fire Museum, 723 Spring Street, Jeffersonville, IN on Saturday, September 23, 10 AM to 5 PM.
What is a "Muster"? A firefighter muster is a traditional celebration in which firefighters and others come together to display their equipment and to show some of their special skills.
At 11:00 a fire engine parade will be held on Spring Street from the Museum going south toward the Ohio River. Vintage and modern engines from various periods will be featured. Fire companies and private owners are invited to also bring their trucks for the parade.
At 1:00 everyone is invited to come to the Jeffersonville wharf at the foot of Spring to watch several of the trucks pump and spray river water.
Items and parts will be available for purchase at "swap meet" tables outside the Museum. People are invited at no cost to set up their own tables at the swap meet.
Throughout the day visitors will be able to see the displays both inside and outside the Museum. Entrance fees will be reduced.
Enjoy the brats, hot dogs, and plate lunch on sale at the Museum.
Collectors are invited to display their own fire engines or classic cars on the Museum parking lot.
Individual and family memberships will be on sale that are good from now throughout 2018.
Winter Hours September 5 – May 14
Fridays 11-4 pm
Saturdays 10-5 pm
We are also open by appointment by calling 812-948-8711.
Group Prices
#1: ADULTS WITH DISABILITIES: $4.00 each. One (1) supervisor free for each 15 people; over and above that, adults $5.00
#2: CHURCH AND OTHER GROUPS OF ADULTS: $5.00 per person
#3: SCOUT GROUPS: $2.00 up to and including age 15 years; $5.00 for those people16 and older, including parents. (Everyone pays)
#4: DAY CARE: $2.00 for children age 3 to age 15; $5.00 for adults; one supervisor free for each 10 people.
#5: SCHOOL GROUPS, same as Scout groups
#6: MOTOR COACH GROUPS: $5.00 per adult. Tour group leader is free.
Membership cost is $25 per year for an individual and $40 for a family.  Membership includes free entry to the museum, reduced prices for special events, and reduced prices for gift store items.  A family membership also allows grandchildren free museum entry.