View More Information
Enjoy a special date with your Valentine's sweetheart at the Vintage Fire Museum.  Each Valentine's Day couples are given glasses of champagne for toasting each other, pose for a free photo taken on a vintage fire truck of their choice (including the famous 1937 flood fire truck), receive a package of Schimpff's heart-shaped candy for red hot lovers, and have the opportunity to explore the museum, which is be softly lit for a romantic atmosphere. The cost is $20 per couple.
View More Information
A memorial to honor those who lost their lives in the attacks on the Twin Towers on September 11, 2001.
Located at Big Four Station in Jeffersonville.
View More Information
What is a Muster? It is a traditional celebration where firefighters and others come together to display their equipment and to show their special skills.
Come and enjoy hot dogs, and brats. A parade down Spring street toward the river and at the Jeffersonville wharf several pump trucks display their ability to spray river water.
View More Information
The Fourth Annual Chili, Brats and Brew celebrated at the Vintage Fire Museum on Saturday, October 21, 2017, 11 AM – 5 PM.
Come and enjoy brats, hot dogs, chili, soft drinks and craft beer from Donum Dei Brewery. There will also be live music from local bands.
View More Information
Come and enjoy snacks with Santa. Take a photo with your child on a firetruck with Santa. Enjoy the museum. Santa gives a gift to every child!
Saturday, December 9, 2017. 10 AM – 1 PM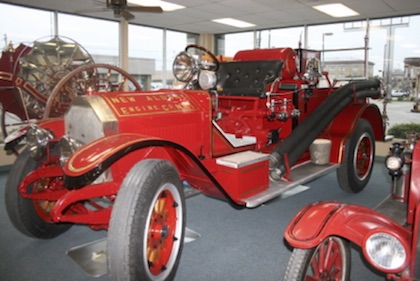 View More Information
The Vintage Fire Museum also participates in events throughout downtown Jeffersonville such as the Cookie Stroll, Wine, Walk & Shop and the Oktoberfest Sip 'n Stroll.