Upcoming Events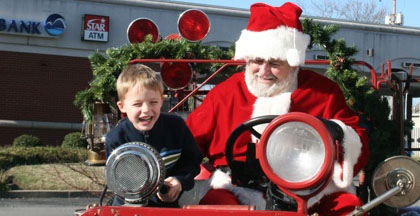 VINTAGE FIRE MUSEUM HOSTS "SNACKS WITH SANTA" – A FAMILY EVENT
The  "Snacks with Santa" – a family event – at the Vintage Fire Museum and Safety Education Center, was a huge success Saturday, December 13. See photos.


*  Enjoy delicious snacks.

*  Santa Claus will be present and will give a gift to every child.

*  Take a photo of a child or children on a fire truck with Santa.

*  See the special antique toy exhibit of fire ladder trucks from the private collection of Jeff Rider.

*  Receive a tour of the Museum with more on display than ever before including the spectacular Philadelphia-style hand pumper from 1858 on loan from the Filson Historical Society and a New Albany parade hat from the same period on loan from the Carnegie Center for Art and History.

*  The cost for the event is $6 for adults and $3 for children 3 to 15; children under 3 are free.

Visit the website at vintagefiremuseum.org or call 812-948-8711.  The museum's regular winter hours are on Fridays and Saturdays. Or call for a special appointment.

Vintage Fire Museum Partners with Safety Net
The Vintage Fire Museum has partnerned with Safety NET to provide American Heart Association(AHA) First Aid/CPR/AED classes to be held on the second Wednesday of each month at the Vintage Fire Museum. Classes begin at 5:30pm and include admission to the Museum. Registration is required.
For more information or to register please visit www.safetynetcpr26.com

Check us out on Facebook! VINTAGE FIRE MUSEUM
News Release
Looking for a great place for a birthday party or a reception?

The Vintage Fire Museum is now open for hosting such events.  You can have a great event in an unusual, spectacular setting.  Special tours and other features can be arranged.  Call Curt or Pam at 812-948-8711 for more information or to make a reservation. See VFM Rental Policy
Vintage Fire Museum New Hours
The museum is open Fridays 12-4 and Saturdays 10-5. It is also open by appointment by calling 812-948-8711. In coordination with Schimpff's, the Museum welcomes groups of children and adults for tours and safety education. The Museum may also be rented for birthday parties and special events
New Attraction in the Louisville/Southern Indiana Area
A new attraction, the Vintage Fire Museum and Safety Education Center, has opened in downtown Jeffersonville, Indiana.
This museum is nationally known; it features beautiful restored fire engines (hand pumpers, chemical engines, horse-drawn steamers, early motorized engines) and other equipment dating back to 1756!
The exhibits are of interest to all ages – from the elderly down to small children -, for men and women, and for people from all walks of life.  Gift store is available.
There are no steps and everything including restrooms is handicapped accessible.  Groups of up to sixty can be accommodated.
Group discounts are available.  Regular price for adults is $5; with groups of twenty or more the price is $3.  Regular price for children 3 to 15 is $2; with groups of twenty or more the price is $1.50.  Children under 3 as well as drivers and escorts are free.  Single payment for entire group is preferred.
There is parking for buses; direct door access.  Rest area for drivers.
The museum is conveniently located near I-65 and just across the river from downtown Louisville.
We are close both to Schimpff's Confectionary/Museum and to Derby Dinner Playhouse.
Visits normally take 30 minutes to an hour.  Docents are happy to provide guided tours.
The museum will accommodate groups by appointment at any time given advance notice.  Regular winter hours are Friday 12-4 and Saturday 10-5; these will be expanded in the spring.
Restaurants are close to the museum.  In addition, box meals can be provided given notice of over 24 hours; they can be eaten on the premises
More information is on the website:  vintagefiremuseum.org.
Contact Curtis or Pamela Peters, board chair and docent supervisor, at 812-948-8711 or 502-599-2522.
Donate
We are in the midst of major fundraising towards our campaign goal of 1.7 million. Grant proposals are being written and individuals, families, and businesses are being invited to make five year pledges. You can make a donation at this website or a pledge by contacting Curtis Peters at (502) 599-2522.